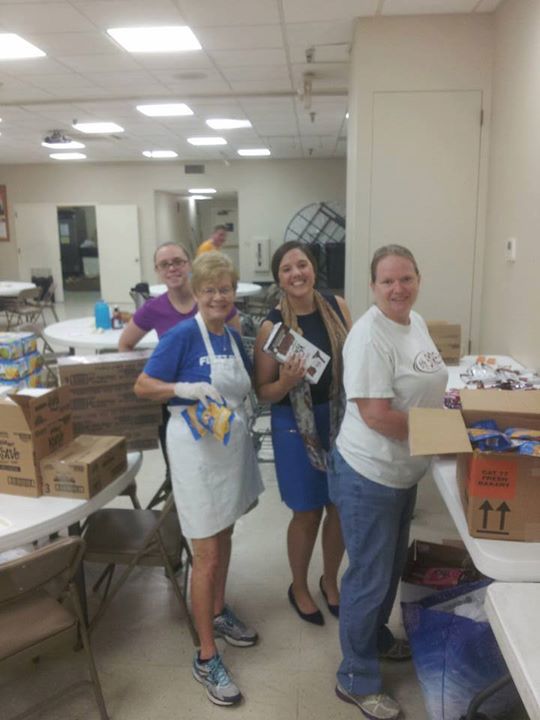 "Do Good for your Sole" Monthly service group
The first Friday and second Thursday of each month are reserved for your group, business or organization to serve the hungry. The following dates are available for 2018. We require a group of 6-8 individuals who are ALL over 18 years of age. Closed toed shoes are

required.

Gloves and aprons are provided. The hours are from 7:30am to 10am (just in time to go back to work!). If you are interested, please email emmaushousesavannah@gmail.com  to reserve your date!
2018 "Hot Friday" Volunteer Schedule
January 5: Savannah Dental
February 2: Judge Realty
March 2: Savannah Morning News
April 6: INNOMED
May 4: First Baptist Church of Savannah
June 1: AVAILABLE
July 6: AVAILABLE
August 3: AVAILABLE
September 7: AVAILABLE
October 5: AVAILABLE
November 9: AVAILABLE
December 7: SCAD IT Department
2018 "Bag Thursday" volunteer schedule
January 11: Kendra Scott Jewelry
Febraury 8: Savor Savannah
March 8: First Baptist Church of Savannah
April 12: Brooks Construction Group
May 10: INNOMED
June 14: AVAILABLE
July 12: AVAILABLE
August 9: AVAILABLE
September 13: AVAILABLE
October 11: AVAILABLE
November 8: AVAILABLE
December 13: AVAILABLE
 

Other ways to volunteer…
You can provide financial support. Each meal costs $3.50. For $350 you can
feed 100 people a hot, nutritious breakfast
You can hold a paper goods drive benefiting Emmaus House. Paper goods are our highest expense.
Your group or organization can purchase or collect personal toiletry items to be distributed.
Your group or organization can purchase or collect kitchen linens and towels.
Your group or organization can hold a food drive.
We need volunteers with Grant writing and research skills.