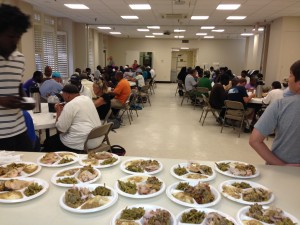 Emmaus House is located in the Parish House of Christ Church Episcopal at the corner of Bryan and Abercorn Streets in Downtown Savannah. Founded in 1982 by a group of downtown churches, Emmaus House provides food and day services to the homeless and needy in our community. We sustain our service to the homeless community today with the help of our fabulous chef Freda, our clinic supervisor Wayne, and many, many volunteers.
Breakfast is served at 8:30a.m. Monday through Friday, fifty weeks each year. All are welcome. Day services include washer and dryer, shower and rest room facilities, distribution of donated clothing and toiletries. Emmaus House is funded primarily through area churches with additional funding from United Way, individuals and private foundations.
Listen to former Executive Director David Acuff discuss Emmaus House on The Creative Coast blog podcast.
Read the blog posted on September 13, 2013 from our volunteer Beatrice Berry: Angels Among Us